Posted by
Adam Brent Houghtaling
, August 10, 2012 10:45 am
No Comments
Filed under: Guests.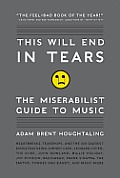 Any obsessive music fan cannot be satiated by music alone. There's an underlying desire to know the people and the stories behind the music. I know I certainly have a thirst for knowledge about producers, studios, subgenres, sub-subgenres, album release dates, tour bus fights, and intraband romances.
To this end, here is a collection of 18 of my favorite behind-the-scenes books about music by both legendary figures and young writers. Some are new and some are old, but they all played a part in helping me write my own book (This Will End in Tears: The Miserabilist Guide to Music) and will continue to be sources of inspiration.
1. Brian Eno: His Music and the Vertical Color of Sound by Eric Tamm
2. The Dark Stuff: Selected Writings on Rock Music by Nick Kent
3. I Want My MTV: The Uncensored Story of the Music Video Revolution by Craig Marks and Rob Tannenbaum
4. ...